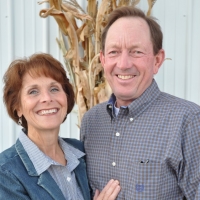 Ron Starr grew up "just down the road" from GPC.  He has served as an elder for the congregation for 5 years now.  Although he probably feels most comfortable helping others see Jesus during a "project," which may involve a hammer, cement or roof jacks, he also has served in various capacities in leadership and teaching at the church.
Ron acknowledges it is important to reach out to the community, and thus has had the opportunity to serve on several boards: the local school board, several agriculture related organizations, and he currently serves on the Sonora Township board.
Ron and his wife Patti have farmed together all of their married life while raising three children.  They are also very happy to be called grandparents.